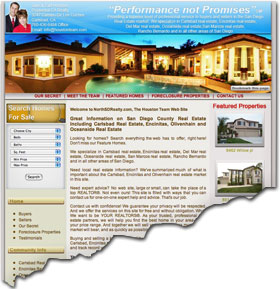 Most real estate companies offer their agents a mini-website on their website:

JoeRealtor.RealEstateCompany.com
or
RealEstateCompany.com/JoeRealtor

Our domain forwarding service allows you to have

www.JoeRealtor.com
automatically forward to JoeRealtor.RealEstateCompany.com

Plus, we also include automatic email forwarding so your email can be:
[email protected]

Any mail addressed there will automatically forward to [email protected] or any other address you choose including AOL, Hotmail, Yahoo Mail, etc.

Get both for only $1.95 per month
---
When you are ready for the extra cost and effort of designing your own website, we can help you with design and hosting but in the meantime, many of our clients find it easier to simply point their personal domain name to their portion of their brokers website.
---
Everyone should have their own domain name. Your domain name is the center of your Internet identity. If you use a free domain name or a free page on your company's domain, what will you do if they go out of business? You can still use your existing website. Your new domain name will automatically forward there. But you control it and you can change it at any time.

This is important: Every business person should have their own domain name!

Now only $1.95 per month (plus $9.95 one time set-up fee) You may cancel our service at any time.

It's as simple as 1 - 2 - 3
| | | |
| --- | --- | --- |
| 1 | Enter the domain name you would like and click the button to see if it is available: | Ajax Process? |
| 2 | Enter the URL of your current website, your visitors will automatically be transferred there: | |
| 3 | Enter your current email address: | |
| | Click this button to pay for your domain forwarding and email forwarding service. | |
You will be taken to PayPal, the Internet's largest and safest credit card processor. They will process your order securely and we will have no record of your actual credit card number.

Your will be billed for the one time, set up fee and will be billed $1.95 each month unless you cancel. You may cancel our service at any time.

The Fine Print: All sales are final. No refunds.
We are not responsible for your typographical errors.
Privacy Policy

Tips for Choosing Your Domain Name
Below are some of the things should you take into consideration when choosing the name that will represent you on the Web:
Keep it short
Although you can register a name with up to 63 characters, you have to keep in mind that people need to be able to remember it, and easily type it into their browser. Try to register the shortest name that your clients and visitors will associate with you.

Dot What?
There are many different extensions available right now. For real estate, we recommend a .com suffix. It is the first extension that most people try when searching for a Website. Also, since it is one of the oldest extensions, .com shows that your business has been around for a while and that you have a well-established presence on the Web.
Avoid Trademarked Names
If you use the name of your broker or franchise in your domain, you have the same problem of what happens when you change companies.
Register Your Domain NOW
Thousands of domain names are being registered every day. You must register soon unless you want to get stuck with "the-domain-name-that-no-one-wanted.net". Get yours now before you loose the opportunity to get the name you really want.
Character Types
Just a reminder. Domain names can only use letters, numbers, and dashes. Spaces and symbols are not allowed. Also, domain names are not case sensitive.

One May Not Be Enough
Sometimes, it isn't a bad idea to register several similar domain names. If you have "yourname.com", register "yourname.net" so no one else takes it. You can register your full company name and a shorter, easier to remember version. (You don't need a separate Web page for each. Several domains can point to the same Website.)
Ask Around
When you have decided on several available name choices, see what your friends and family have to say. A name that may make perfect sense to you may be too hard for others to remember. Is your domain easy to say? Do you have to explain why you chose the name? Is it difficult to spell?
Don't Spend Large Amounts of Money
At one time, companies were able to get away with a "mandatory" $70 InterNIC fee. Now there is more competition to sell domain names. This has lowered the prices dramatically.